One of my favorite things about being a wedding photographer in San Antonio is shooting the traditional bridal session. A bridal session is included in two of my wedding collections! This photo shoot can also be a great trial run for hair and makeup and any dress or accessory issues that might come up on the big day. This bridal session for the lovely Aimee Melise Castelan was so much fun to shoot at The Pearl in San Antonio, Texas.
1. Aimee is such a beautiful person inside and out and that made this shoot feel like a breeze. She has a laugh that is contagious and her go-with-the-flow attitude made it so easy to direct her into beautiful poses and get some great portraits for her.
2. I love when brides incorporate unique details into their photos. Aimee is a fourth grade teacher, and one of her students gave her this special jeweled pin for her bouquet. I'm sure it was nice to feel her student's presence as she walked down the aisle.
3. Amazing eyes! Aimee's hair and makeup was so perfect for a warm sunny photo session in July. For this bridal look see Bren Betico at Indulgences Hair & Body Salon.
4. The Historic Pearl is such a versatile location for a photo shoot. Yes, it's under construction, but with a little bit of Photoshop magic, that crane in the upper left of the above photograph is nowhere to be found! The thunderstorm that rolled in two seconds after this photo was taken is also nowhere to be found. And did I mention how awesome Aimee was? We took shelter under an awning, and as soon as the rain moved past us, she gave me this winning smile!
5. Aimee's gorgeous lace and tulle dress was so fun to photograph and create movement. I also love the detailed buttons in the back trailing all the way down the skirt. Aimee's wedding dress was designed by Allure Bridal and she found it at The Brides Gallery in McAllen, Texas.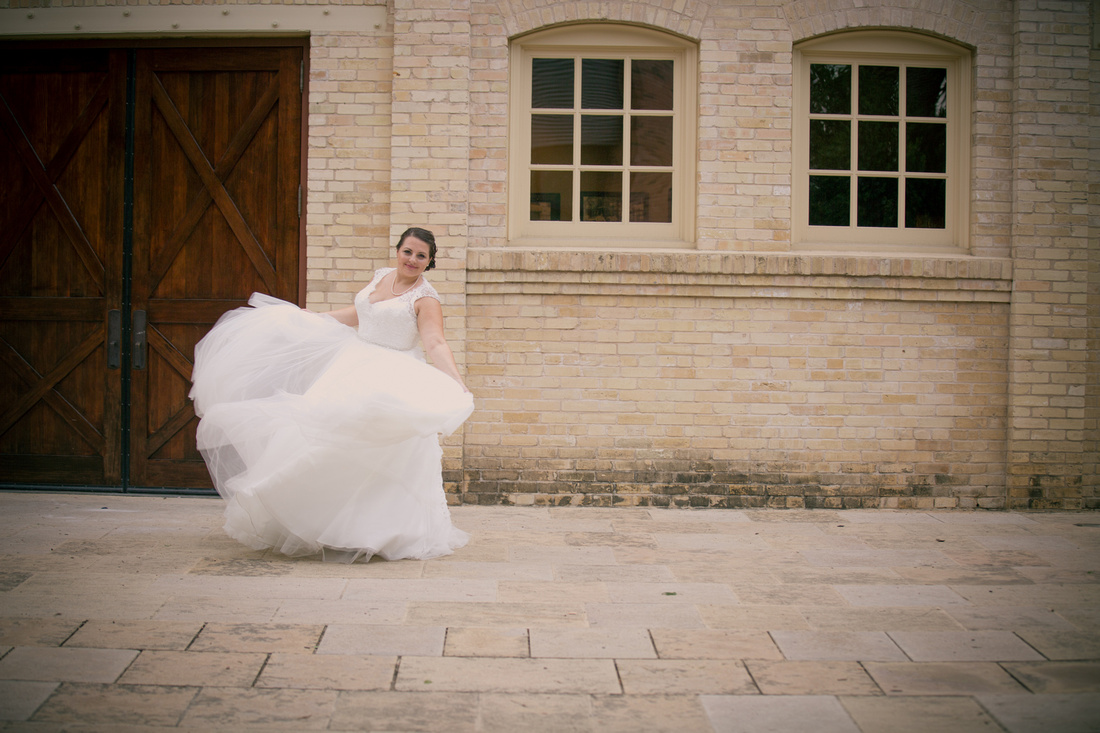 I so loved this photo shoot, and I especially love when my clients have friends and family come along to enjoy the experience.