The Granary RoomMission San Jose Bridal Portrait in The Granary Room. Beautiful bride Angelica Ochoa in the summer of 2018, photographed by Sonia Freeman, Aria Productions
I am so thankful to be doing this work, because it has brought such amazing people into my life. I first met Angelica after I shot her college friend, Courtni's wedding last year during the weekend Hurricane Harvey dumped a ton of rain on our long hot summer. I remember she was one of the first people out on the dance floor and kept that dance floor moving! The best compliment a photographer can get is a referral to a friend, so I was overjoyed to learn she was also referred by another good friend, Analiza, who you'll see down below! When I first met with Angelica and Jacob, I invited them into my home office, offered them snacks and drinks and we talked about what they envisioned for their wedding day. The sacrament was the most important thing, but also they wanted their wedding to be fun, vibrant and with a Spanish Fiesta flair.
Photographing Angelica at Mission San Jose was sooo much fun. Not only is she gorgeous, but she has a heart of gold. Here's some of my favorites from her bridal portrait. Her bouquet was designed by FromHisGarden, the amazing Lizette Suarez. She found her gorgeous wedding gown at IDoTheDressIDo. Hair and Makeup by Madame Make-up & Hair.
Classic Bridal MakeupPerfect makeup by Madame Makeup and Hair.
Spanish BrideAngelica found these bright serapes that inspired her wedding colors and decor. They were the perfect touch for her bridal style.
You all know I love a dramatic bridal portrait, but I also love to capture the personality of my client. I feel we captured Angelica's joy and her beauty.
Joyful BrideWhen there is a veil, I will play!
Mission San Jose BridePortrait of a bride with rosary.
I love it when a bride brings her people along for the shoot. In this case it was a great surprise, because I had shot her friend Analiza just two years ago at this same spot on her wedding day! Analiza is such a great friend and ran all the way back to the car to find a missing rosary for the portrait above. What are friends for?
Two of my favorite bridesIt helps to have a friend come along for support on a photoshoot.
Spanish BrideSpanish bridal portrait at Mission San Jose, San Antonio, Texas. Photographed by Sonia Freeman, Aria Productions.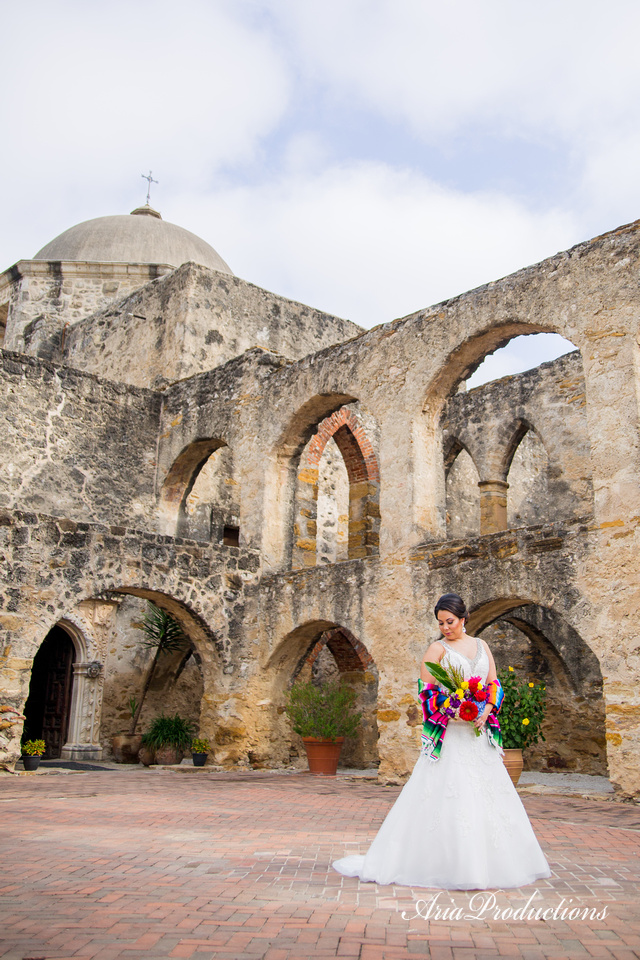 Mission San Jose BrideI definitely try to keep my brides comfortable during a shoot, which means an early shoot in the summer when it's not too hot.
Spanish FlairA second style for the reception, Angelica planned to remove her cathedral lace veil and replace it with a perfect red rose.
Mission San JoseOne of the most beautiful features of Angelica's dress was the beaded low back and lace train.
It's important to me to fulfill the vision of my client for their portraits and wedding day. How do you want to be photographed? Leave a comment below!