My husband, Mike and I had a fabulous time at the San Antonio Bridal Extravaganza today. We're so grateful to have met so many fabulous couples getting married this year, and choosing me as their wedding photographer. We also got a chance to meet other talented wedding professionals we hope to work with in the future. Thank you to all the couples who came by to speak with us and learn about what we have to offer. Special thanks to my mom and dad for helping us set up our booth and taking my son to Sea World today, my cousin DeAnna for babysitting yesterday, and my former client Jennifer Maycotte for keeping us company during the show and bringing us samples from all the caterers. Below check out some of my favorite wedding details featured at the show.
| | |
| --- | --- |
| Cinnamon Rolls from the Guenther House! | Cute pocket books with your engagement photos for the lining! I just can't remember the vendor. |
The Exclusive Cake Shop did our wedding cake, grooms cake, linens and table center pieces for our wedding 5 years ago. They are so creative, produce beautiful and delicious work, and I would definitely recommend them if you are looking for talented wedding professionals. They also have a new family owned venue to add to their repertoire!
D'Pasteles Cake Shop, beautiful work!

I can't remember the name of this baker, but if I find him I'll give due credit: colorful macaroons for your dessert table.

This would be lovely at a bridal shower, or morning after brunch.





And the gowns...sigh, oh yes the gowns!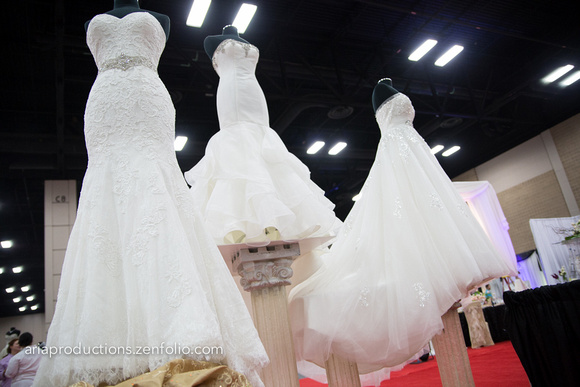 I saw this headpiece from a mile away, and I hauled it across the show floor to snap this shot.
Special thanks to the San Antonio Wedding Guide and all their wonderful staff for making this a successful show. You are very much appreciated.
Above is Sheila Dunn, Marketing Director for the San Antonio Wedding Guide and Granberry Hills Event Center.
If you missed today's Bridal Extravaganza and would like to see more of what you saw in this blog post, Granberry Hills is hosting an Open House Wednesday July 9th from 5:30 PM to 8:30 PM. I will be there offering a similar special to todays show.