I specialize in pregnancy and newborn photography. As a mother and wife, I know firsthand how important it is document these little angels in their first days. They grow so quickly, and you want to remember every soft hair, every sweet babble, every nose crinkle. I now offer my photography services to my special clients who deserve beautiful artwork to display in their home and remember this time of expecting their baby. - Sonia Freeman
Safety is of the upmost importance when working with newborns. I always work with a spotter when posing a newborn, and all of my props and blankets are cleaned and inspected to ensure suitability. I also sanitize my hands as well as my camera before touching your newborn, as well as stay up to date with vaccinations. Additionally, I have everything you could need to be comfortable during your session, including extra diapers, a changing station, and a private nursing area complete with rocking chair and boppy for breastfeeding mamas. If you have any additional requests please feel free to contact me before your session.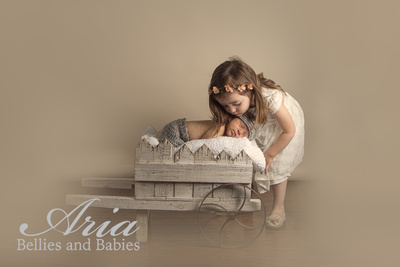 Session Fees:
$150 Maternity Session

1 hour in studio portrait session with wardrobe provided.

$300 Maternity Session

2 hour session in the studio and 1 outdoor location. Wardrobe provided.

$225 Newborn Session

2 hour session in the studio with at least 3 sets; includes poses with mom, dad, siblings, family portrait. Includes online gallery and set of 25 5x7 flat card birth announcements.

$300 Newborn Lifestyle Session

2 to 3 hour session in your home or location of your choice. I will bring props, wraps, blankets, and use natural light and natural home setting in your nursery or bedroom. Includes online gallery and set of 25 5x7 flat card birth announcements.
Session fees cover the photoshoot, the talent and expertise of the photographer, all photoshoot preparation and coordination and subsequent editing as is required for maternity and newborn photography. Aria Productions provides unique art for your family to cherish for years to come. Learn how to archive your custom art work in our Studio Products Guide.
Planning your maternity portrait session
We recommend you schedule your portrait during the late seventh to early eighth month, the point when the belly is nice and round and you're still feeling comfortable. We work in an air conditioned and private home studio and also go on location. If we are in your home, I like to do a few portraits in either the baby or parent's room if it's ready. Don't worry if it's not ready. This is about telling the story of "waiting for baby". An empty nursery can be just as beautiful as a decorated one. We also do a few poses with a background, light or dark. When I'm designing the look of your portraits we take into consideration what colors and textures you like in your home. Do you like light and airy or dark and moody? All of this is discussed when you call to book your portrait session, to ensure we create portraits that compliment you and your home.
What to wear?
For the home and studio session, a pair of nude panties and a strapless bra or bandeau are a good foundation, and I can do the rest with fabrics and drape. A white or dark t-shirt or oversized men's shirt and some maternity jeans are a classic look as well.
For the outdoor location, wear something comfortable and stretchy, like a knit dress, or jeans and a favorite blouse. Solid colors are best for showing off your beautiful shape. Check out my pinterest board for some ideas. For Dad and siblings, pick colors and accessories that compliment what you are wearing.
Getting your hair and makeup done is not required, however it will enhance the look of your portraits and make you feel so much better. Especially when you're seven months pregnant, treat yourself so you'll feel great in front of the camera. We can make hair and makeup recommendations.
Including the family
You will definitely get a gorgeous family portrait as well. My assistant will help with big brother or sister while we get a few images of just mom and dad, and then get the entire family. Don't worry about bringing your toddler to my studio for a session, I have plenty of toys and snacks to entertain while we shoot.
​